-Exclusive Photos!
By The Bravo Mafiosa
---
INTRO:
There is an up-and-coming star in the Streets of Twitter & Bravo World! Since collaborating with Bravo Babe on a video for Bravo Con last year, she has started a podcast, continued to create merch and secured a spot as a Host on US WEEKLY!
---
Read all about The Bravo Babe and her road to success as we get into all things Bravo, Business and Beauty.
I Introduce to you, a "new friend of ours", Podcaster, Creator and Housewives of New Jersey Stan,
Q & A:
So, first things first I want to get into your personal life just a tad. Tell us about your daily life and what that looks like.
Q. What does 'Christina' do in her day to day?
A. In my everyday routine, I always always set my intentions for the day. Whether that be telling myself my goals for the day or telling myself I won't let others' actions change my mood. Something to hold myself accountable for the day. I am a huge fan of Alani Nu energy drinks, and I can't remember the last time I started my day without one. I am a mom of 3 and I do carpool, t-ball practice, gymnastics, playdates, and sometimes all in the same day.
Q. Where did you grow up?
A. I grew up in a small town in Indiana (like John Mellencamp, all roads lead to Bravo)
Q. What was your fave childhood movie?
A. Without a doubt, I remember always watching everything Mary-Kate and Ashley. It Takes Two probably takes the #1 spot.
Q. Your most embarrassing High School memory?
A. I'm still salty that I didn't win Homecoming Queen. I was nominated, but I lost. I remember feeling so embarrassed!
Q. Do you like to dance?
A. Babes, my signature party trick is doing the worm. I love a good dance party.
Q. Did you go to College, Which Major?
A. I did! I went to Purdue University. I majored in dance parties.
Q. Do you have a typical 9-5?
A. I have a typical 24/7 job with being a mom. I stay home and raise the babies.
Q. I know from our previous chats that you are married and had a "Shotgun Wedding", tell me all about that day.
A. Talk about a hell of a decision. My now husband and I had a large 200-person wedding planned and paid for. Then covid hit. The venue had to cancel all events including our wedding. We decided to keep the same date, and have the photographer, our families, and closest friends all meet us at a lake in our hometown. My dad walked me down the aisle to Here Comes the Sun, and we said I do with our best friend officiating. There is not a thing I would change about the day.
Q. Please spill all the details on your dress, hair, shoes and makeup.
A. The good stuff! My dress was from Something Blue Bridal Boutique. The designer was Stella York, and it's now preserved and in a beautiful large keepsake box. My hair and makeup was done by the same friend that did my makeup back in high school for homecoming. It was special to have her there and nostalgic for sure. I wanted a shimmery bubblegum pink eye, to match my dress that was a champagne pink under color!
Q. What did you do after to celebrate?
Q. What did you do after to celebrate? We came back to the house and had pizza and champagne. COVID had EVERYTHING closed, so the pizza was a Home Runn Inn. My hubby and I still danced to our wedding song, 'You're The One' by Greta Van Fleet.
Q. Favorite Book you ever read?
A. Breaking Dawn from the Twilight saga. Team Edward
Q. The one Movie you watch over and over?
A. I could tell you every single word to Mean Girls right now.
Q. Music- What song are you currently listening to?
A. If you open my Spotify right now you will find GRiZ as my most played artist. If you have never listened, try starting with the song PS GFY.
Q. What is your 'genre pick' of music?
A. My heart and soul is EDM. More specifically dubstep.
Q. What is your favorite decade for fashion?
A. Can we bring back the 70s vibe? The patterns, the colors, the hair. I wear bell bottoms proudly!
Q. Did you ever work in retail?
A. I have worked in retail. I worked at a Pandora bracelet store. Retail work in Chicago during the holidays is not for the weak.
Q. Who was your ICON/s growing up? I feel like I remember you saying Cher…
A. See what I was saying about the 70s vibe? Cher is just that. I remember my mom waking me up at night as a kid to watch her 'final show' live on TV. It was that moment that I saw her as an icon. When I sing karaoke, 'Do you believe in Love' is my go-to.
Q. Tell me about a time in your life that you felt empowered as a woman to be who you want to become.
A. I want nothing more than to be a good mother. I felt incredibly empowered the day I became one. The best damn thing I have ever done.
Q. Describe your happy place when you have a bad day?
A. My hammock with a joint in my hand. The best therapy there is.
Q. What are your dog's names?
A. I have 2 black labs and their names are Hank and LadyBug. Hank is named after Hank Williams Jr (yee haw) and LadyBug just sounded cute. They are both rescues, and we adopted them from a humane society in town.
Q. Who are the TOP 5 most notable accounts on the STREETS of twitter?
1. @lilfamilyvan 2. @bravo_discourse 3. @doritslay 4.@lemoncarcass 5.@therealbumwives
Q. Tell me about some fun celebs you've met or interviewed.
A. Random: I met the Cheetah Girls back when the movie came out and let me tell you, major slay.
Q. Have you met any twitter accounts?
A. I really hope to meet Jenny Blaze at Bravo Con!
---
BRAVO
Q. What is your first memory of watching the Real Housewives?
A. The very first episode I remember watching was the infamous New Jersey christening. I was in high school and no one I knew watched Bravo or the real housewives, so it felt like a secret crush.
Q. What pulled you in?
A. Teresa and Jacqulene pulled me in. Their friendship at the time was real and authentic, and fun to watch. I loved seeing the big family dynamics they had as I come from a large family myself. The big over the top houses, the dance mom in Teresa, the Lucy and Ethel fun. Top tier.
Q. At what point did New Jersey become your favorite?
A. The moment Teresa heard the rumor about Melissa being a stripper, I was fully committed.
Q. Who do you stan on NJ?
A. I stan Teresa Giudice and Teresa Giudice only. Despite my favoritism towards Melissa this season, Teresa is and always will be the heart and soul of new Jersey. She has given us more than any housewife across the board. There is no comparing, sorry babes.
Q. Who do you stan overall on HOUSEWIVES?
A. Let's give my #1 Tamra Judge a shout out. From her humble approach to life, to her no bullshit attitude, she is TV gold. I always said there is no OC without Tamra, and look who's back to save the show! Heather could never…
Q. How are you feeling about the UGT spin offs?
A. The RHUGT spin offs are lighthearted and fun to watch. None of the drama feels too real, and that's a nice change from the usual franchises. Peacock is doing the damn thing. I want to see a 'frenemies' cast. Could you imagine Kim Richards and Lisa Rinna together? A fever dream.
Q. Who do you find to be the best dressed Housewife of NJ?
A. Melissa is the best dressed on Jersey. I've purchased a few things from ENVY and loved the way they fit. – It's expensive to be me!!!
Q. Best Dressed all across the board?
A. I just came back from doing a deep dive into housewives' fashion. The best dressed housewife is…Dorit Kemsley! It's not just fashion for her, it's the whole vibe. Everything she wears she wears with swag and confidence. I totally adore her for that.
Q. Who is worst dressed in NJ and all across the franchises.
A. Margaret who? I can't remember anything she's worn that made me look twice. And Garcelle, WHAT ARE YOU DOING. Someone please give her a stylist. Hell, I think I could do a better job. Sorry!
Q. What did you think about Teresas wedding?
A. Teresas wedding was just that, a very TERESA wedding. The higher the hair the closer to God, right? The bridesmaid dresses were a beautiful pink Satan, and they all looked gorgeous next to Teresa. I think it was special to have Louie's sister officiate the wedding. It shows you she has a supportive and loving *new* family.
Q. Should Melissas mom have been invited?
A. Yes. It seemed tacky to me to not to invite her. Given Teresa's parents were so close to Donna, it is the respectful thing to do. I absolutely understood Melissa and Joes frustration.
Q. Thoughts on Danielle the newbie.
A. Danielle is an icon already. The way she was engaging in drama from the beginning shows that she's not afraid to get involved and down and dirty. She has an interesting family dynamic with her brother, and I hope we see more of that. We need housewives with family storylines outside of Teresa and Melissa. I think Danielle can do just that.
Q. Thoughts on Jen and Rachel? NJ
A. Jen is the lighthearted comedic relief that jersey needs. We don't know much about her personal life, but at this point I don't think we need to. Rachel seems like she was team Melissa from the beginning. You can tell she watched the show. No shame on that, but her preconceived notion has clouded her judgment with her first season as a housewife.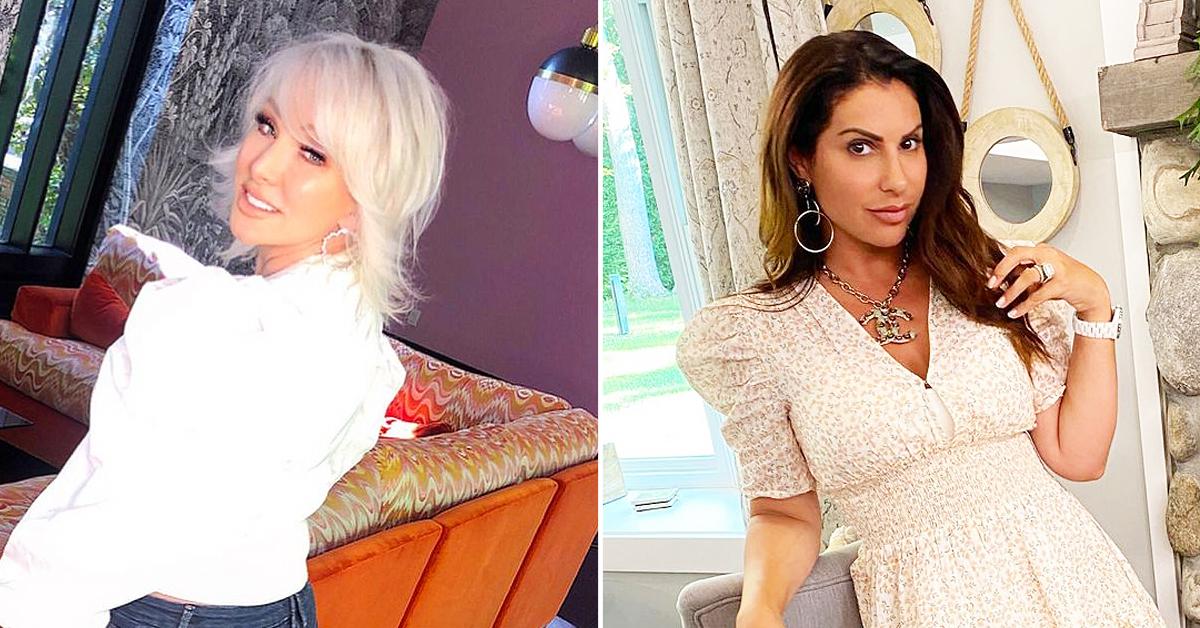 Q. I think Marge and Jen give the viewers good TV. Jen is unhinged, but I love it! What do you think about their feud?
A. Love the feud between them. However, I will say Marge needs to lay off the "disheveled drug addict" comments. It's hurtful and tone deaf to so many!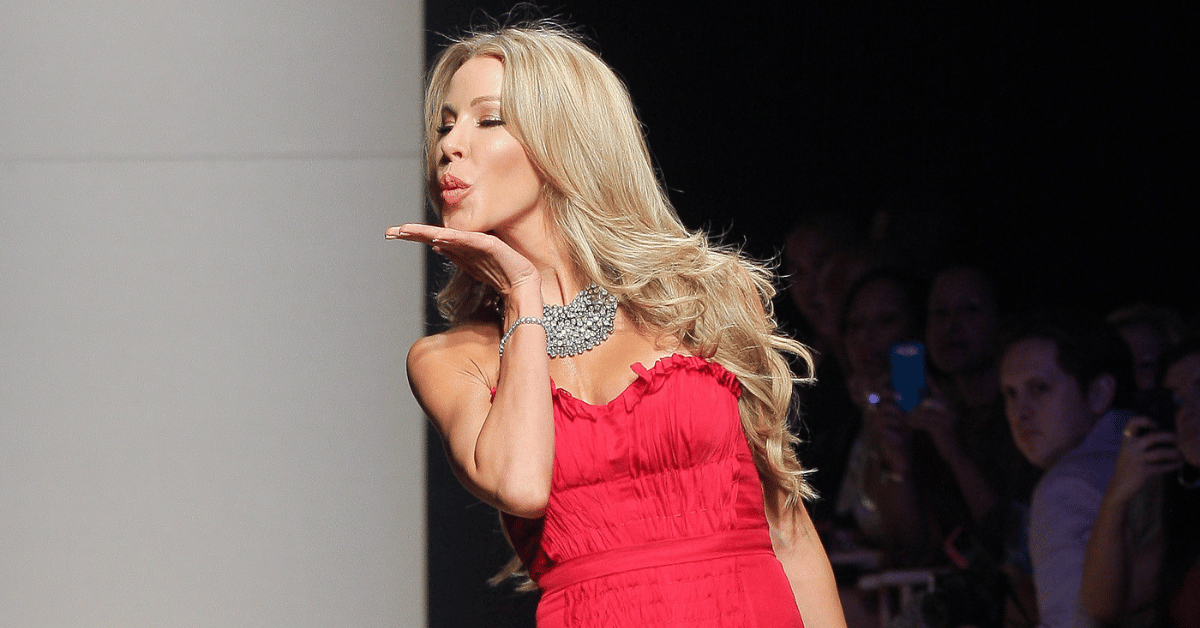 Q. Q. Have you kept up with HW of Miami, what do you think you would have done if you were in Lisa's position?
A. Absolutely. Leave him. Period. Take those babies and give them a happy healthy life as co parents.
Q. Does RHOM need Larsa?
A. Nope. Her and her braids are background noise.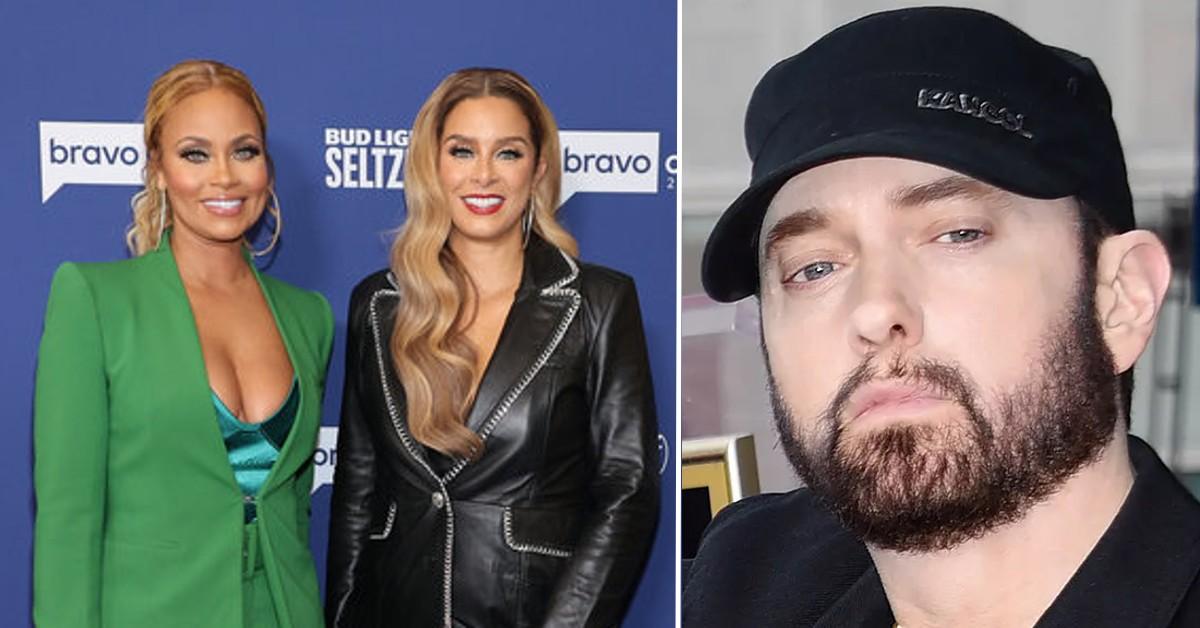 Q. I stan POTOMOC 100, But I have always found Gizelle to be a mean girl, and NOT in a "good tv" kind of way. I have not listened to her podcast, and I don't plan on it but since you're a podcaster, I want to hear your opinion on the beef G and Robin have with Eminem. (I can't help but LQTM)
A. All roads lead to bravo, ALWAYS. I think anyone who has beef with Eminem is a star in their own right. That being said, change the podcast name! It's not on the charts (hardly ever) and it wouldn't be hard to give it a little rebrand.
Vanderpump Rules
Its April 2023 and "Scandoval" has taken place. It has been complete chaos in the streets of twitter, and it has taken a hold on many of us. We've all heard the old adage "Once a cheater always a cheater" and we all knew Tom was a cheater.
Q. Are you shocked by this whole thing, or do you think it was just a matter of time?
A. I was shocked. I remember exactly where I was sitting when I got the notification from Queen of Bravo. I truly thought Ariana and Tom were end game. The streets of Twitter was my home and I was in a hole of "Scandoval".
Q. What did you think about Raquel when she entered the
scene?
A. Lala said it perfectly. She was a deer in headlights. A "Bambi eyed bitch". Ok maybe not the bitch part. When she first came on the scene she was quiet and innocently blissfully unaware of what she was heading into. Now my opinion of her is VERY different, and obvs.
Q. What is the word on the Steets about Ariana and Scheana's friendship. Has Sheana shown support for Ariana? I think I read they went on a trip. Any inside info?
A. Scheana and Ariana are ride or dies. Scheana had no problem dropping Raquel and shoving her and grabbing her phone and throwing it. I think I would have done more given the circumstances, but Scheana has a little more class than me. Inside info- Scheana was the first to find out of the affair from Ariana.
"Seeing the midseason trailer on the actual tv screen, I haven't had chills like this since covid". #PumpRules

–BravoBabe
Recently, I posted on Twitter about Scheana Wedding Dress and the results I got were unexcepted. Please weigh in and give us your Wedding fashion advice. Is a crop top wedding dress "Trashion or Fashion"?
A. It is…. FASHION. Was it in 2016? That was the era of crop tops. When you get married, you should feel your absolute best, and that's what she said she felt best in! Just like Teresa with the wedding hair, it's YOUR wedding day. No one elses'. Wear the crop top babe!
---
BEAUTY
Q. Do you have a morning beauty routine?
A. Side note! I just started a partnership with Alexis Bellinos' new skincare line- Filter LESS. So, I can't wait to ass that to my skincare routine. Yes, and we all need one! It helps you start your day off on a good foot. This is also when I usually start my intentions for the day.
Q. Do you have a secret to getting ready fast?
A. Having kids. Ha! But really, simple is better. Don't overdo it. Sometimes a good moisturizer and serum and blush with some eyelashes is all you need.
Q. What is your go to facewash?
A. Clinique liquid facial soap. I won't touch my face with anything else!
Q. Brand of foundation, bronzer, eyeshadows other makeup
A. Ok so SmashBox for a primer and under eye concealer. That's how I start. Foundation, I have used Urban Decay Stay Naked for at least 3 years. The best pallet for bronzer and contour is Park Ave Princess. It's a must have for everyone who wants a glow and bronze. Naked is all I use for eyeshadow. Oh! You can't leave the house without a little lip. MAC in color Kinda Sexy.
Q. What hair products do you buy over and over?
A. I stick with Purelogy. Having a constant with hair products is huge. You can't switch it up too much. Purelogy gives you strength and a smooth blow dry.
Q. Describe your daytime face routine.
A. Rose water spray alllll throughout the day! But in the morning, it is always moisturizers and serum under my makeup.
Q. Do you prefer mani or pedis?
As I type this I am getting a pedicure. Every 2 weeks I get a mani pedi.
Q. Do you get facials?
A. Microblading! Monthly.
Q. What is the one beauty product you can't live without?
A. Rose water and dry shampoo!
Q. Where do you typically shop online for clothes and style in person?
A. I adore Pretty Little Thing and Pink Lily online. I've even bought from ENVY before. If I need something quick, Amazon same day delivery saves me.
Q. Do you have a nighttime skin care routine?
A. Always always wash your face off from the day. I try to keep it simple at night with a clean face and under eye cream. I'm almost 30, so I need some collagen peptides is essential.
Q. Any Preventative maintenance tips and tricks to share?
A. Collagen and sunscreen!!!!!! I can't emphasize sunscreen or an SPF enough.
---
Business
Part of the purpose of these interviews is to teach other content creators, entrepreneurs and the business minded alike. There are so many people out there who have similar Ideas and don't know how to get started. So, let's talk a little business.
Q. Tell me about your MERCH.
A. All my merch is made by me. Most content creator use drop shipping, but I wanted to hand make everything. It gives me a sense of accomplishment! Send it to Darrell was first made by me. I even sent Lala a shirt before she made hers!
Q. Why did you finally decide to start a podcast?
A. February was when I ordered my equipment. I have some fellow podcasters that gave me the courage to put myself out there with a podcast, and I'm thankful for them! The first episode was my interview with Megan King April 1st.
Q. What was the catalyst?
A. I have SO many bravo thoughts. And Scandoval has taken over and consumed me. My husband didn't understand my ranting and bitching about all things Bravo, so I hoped that someone out there would listen and get me. And y'all do!
Q. Who was your biggest influence as a podcaster?
A. Jenny Blaze of Bravo and Blaze. I adore her! Subscribing to her Pateron has helped me learn and navigate the content creator and influencer world.
Q. Tell the readers about your website.
A. My website will take you to my podcast, merch, and my famous Blunt and Blog posts. I get pretty personal on there and share photos you can't see on my Twitter or IG.
Q. What was your first business venture??
A. Bravo Babe! I can say with confidence and fulfillment that my first venture has been a success. I know it's a tough place out there, and I'm thankful that I have followers and friends who support me. It's exciting to see my pages grow because of them!
Q. Who is a celeb that we can listen for…. anyone you plan on interviewing already?
A. I just spoke with a current housewife from my favorite franchise. Any guesses? Get excited for…. May 15th!
Q. Who would be your DREAM guest or Co Host on your podcast?
A. Manifesting @Lisa Barlow. Baby gorgeous, let's talk about Vida Tequila and motherhood!
---
NOW! Here are the top 10 reasons you should check out Bravo babe!
1. Her voice is very pleasant
2. She has a podcast
3. She creates merch
4. She is marijuana friendly
5. She takes luxury vacations
6. She stans New Jersey
7. She is a mom with good style
8. She really is a BABE!
9. Inside scoops and Celebrity Gossip
10. She has now been featured as a US WEEKLY HOST!

-Bravo Mafiosa
EXCLUSIVE PHOTOS
LINKS:
"Join me and Meghan as we discuss "Scandoval", her just last week attending a lavish Beverly Hills party for Sutton, and a busy personal life."
— Bravo Babe